The New York Police Department has one of the country's most sophisticated surveillance and crime-solving tool kits, with license plate readers, cellphone trackers, drones and facial-recognition software, among other technologies.
The public knows about them largely through the work of activists and civil libertarians who have fought with lawsuits and transparency requests to pry the information loose. Top police officials have traditionally resisted disclosing their methods, saying that to reveal too much would play into the hands of terrorists and criminals.
But on Thursday, the City Council passed a bill that for the first time will require the police to reveal information about their arsenal of surveillance tools, some of which may have been used in recent days at protests in New York. Mayor Bill de Blasio and police officials have previously opposed the bill, but changing course this week, the mayor said he was now inclined to sign it.
The passage of the bill, known as the Public Oversight of Surveillance Technology – or POST – Act, comes amid a flurry of efforts to overhaul the police in New York, many of them triggered by the Black Lives Matter demonstrations.
Top police officials announced on Monday that they were disbanding a plainclothes unit that had been involved in numerous police shootings. Then Mr de Blasio, in an unprecedented move, said on Wednesday that he planned to put online the internal records of hundreds of officers who are facing disciplinary measures. Those actions followed others last week by state lawmakers in Albany, including a repeal of a half-century-old law that has kept police disciplinary records secret in the state.
The POST Act passed as the Police Department, under pressure from three straight weeks of protest, has said that it intends to move away from brute force crime-fighting strategies and rely more on intelligence gathering and technology.
The bill does not prevent the Police Department from employing high-tech surveillance, but it will force it to reveal what kinds of surveillance tools they use and what kinds of data it collects on New Yorkers. It was part of a package of council-led reforms that included a ban on the police use of chokeholds and a measure requiring on-duty officers to display their badge numbers at all times.
The bill passed overwhelmingly by a vote of 44-6, despite the Police Department's continued objection.
"To be clear," a police spokeswoman wrote in a statement on Thursday, "the bill, as currently proposed, would literally require the NYPD to advertise on its website the covert means and equipment used by undercover officers who risk their lives every day. No reasonable citizen of New York City would ever support that."
The POST Act has a troubled legislative history, having languished in committee since it was first introduced in 2017. Thirteen other cities, including San Francisco, have already adopted similar laws. And, as the country has been rocked by protests stemming from the death of George Floyd in Minneapolis, a handful of tech firms have vowed to move away from the police surveillance business.
Last week, Arvind Krishna, the chief executive of IBM, sent a letter to Congress informing lawmakers that his company opposed the use of facial recognition tools, concerned they could be used for "mass surveillance" and "racial profiling". A few days later, Amazon announced that it had put in place a yearlong moratorium on selling facial recognition software to the police.
In New York City, the POST Act is supported by dozens of privacy and civil liberties groups, 70 of which sent a letter to the council late last year denouncing the police department's acquisition of "highly-invasive technologies" like Stingray cellphone trackers and artificial intelligence programmes that map out people's online social networks.
"These technologies pose a unique risk to black and brown New Yorkers who the NYPD has subjected to dangerous, invasive policing tactics for decades," Donna Lieberman, the executive director of the New York Civil Liberties Union, said in a statement praising the bill's passage. "Many of these tools have no place in the hands of law enforcement, and more action is needed to curtail NYPD policing and surveillance abuses."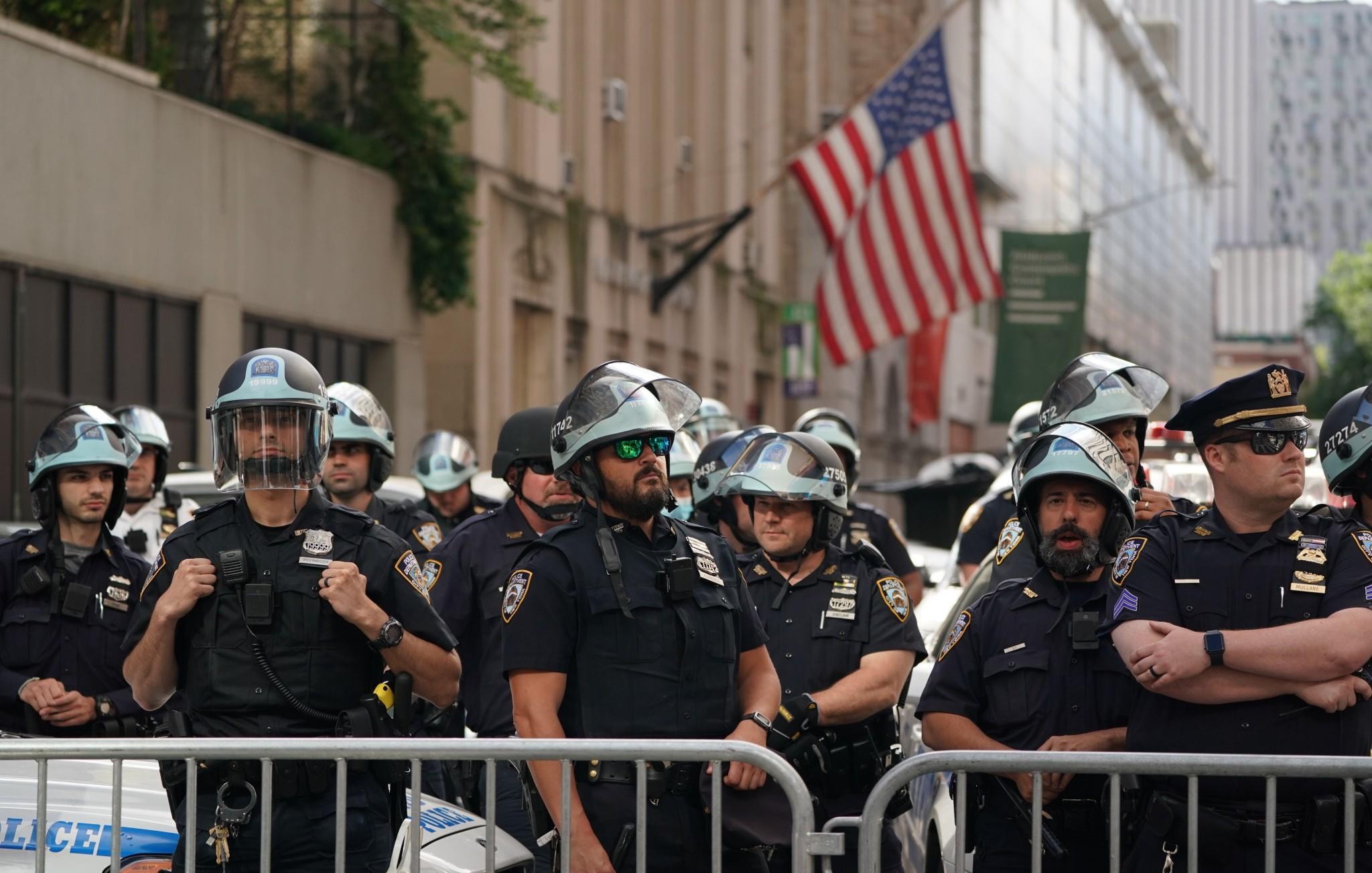 The Police Department has acknowledged the use of some technological methods — though usually only under pressure from activists and civil libertarians. One of its broadest surveillance projects is the Domain Awareness System, a tool it developed with Microsoft after the terror attacks of 11 September that connects the largest network of cameras, license plate readers and radiological sensors in the world.
One focal point of the department's info-tech efforts is the Real Time Crime Centre, a room in Police Headquarters where a 500-square-foot video screen, connected to surveillance cameras and databases of photographs of birthmarks and scars on possible suspects, has helped investigators solve crimes for more than a decade.
Many aspects of the department's use of facial recognition have come to light only because of a lawsuit by Georgetown University Law School's Centre on Privacy and Technology. The suit, which remains ongoing in Manhattan, has led to the release of a cache of internal department documents, some showing that police investigators loaded thousands of arrest photos of children and teenagers into an online database. In theory, the database could help detectives compare the faces with images from crime scenes, but evidence suggests that the technology has a higher risk of false matches in younger faces.
Other bills in the council's package reaffirm the right of New Yorkers to record the police and require improvements in the way the department identifies problematic officers.
At a news conference in support of the POST Act on Wednesday, Albert Fox Cahn, a New York lawyer who runs the Surveillance Technology Oversight Project, said the law was central to curbing what he called a misuse of technology.
"This bill is going to be crucial on NYPD surveillance," Mr Cahn said. "This is the beginning of the end of a history of abusive policing."
Find The Source Here.